Thinking in flow - some recent thoughts
I talk a lot about flow these days and I'm continuously fascinated how many good things follow by shifting our focus to supporting a better, faster and smoother flow.
In this post, I just wanted to share a few thoughts that have been on my mind lately.
Flow of what?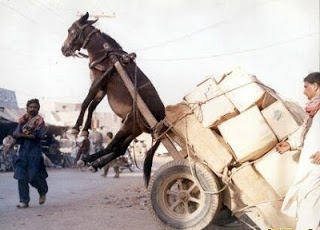 This picture above is my favourite picture on the net. I have done a 2-hour lecture on lean with this as the only slide.
I will not go into all details, that can be observed and learned from this picture, but note how much value that gets delivered. You can tell but I'm sure that poor animals legs are plenty busy, running for his life with fear. That business doesn't help much. None of the bags on the trolley gets delivered.
At this point I often ask:
What is the simplest and...
Read More